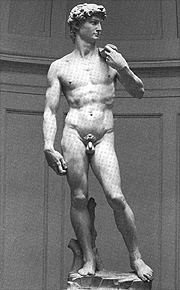 I bought The Men's' Health Hard-body plan – The Ultimate 12-Week Program for Burning Fat and Building Muscle. I haven't started the workout plan included in the book, but I've been reading the book for the last week. The reference section in the back of the book has a section called "How to Create the Ultimate Workout Space – The Perfect Home Gym". I was really pleased that my home gym nearly meets their approval.
Click here to see a photo of my home gym.
This is what it says:
A few full length mirrors on the walls. I have two.

Boom Box. I don't have this, but I listen to my MD player with wireless headphones.

Six of your favorite enlivening, make-you-wanna boogie CD's. I have about a dozen MD disks.

Fan. I have an Air Conditioner.

Fridge with case of sports drinks. This is not in my gym, but my fridge in my kitchen has this.
Hook for towels. Yep.

Chair for rest breaks. Yep.

Padded carpeting on floor, or rubber gym flooring. Yep.

No Phones. Yep.

Wall Clock with second hand. I have a large nuclear clock with a digital second display.

TV and VCR. I have a 17" TV mounted on the wall with a DVD player and a DISH Network receiver. I workout watching MUN2. This is by far the best workout TV you can find.

Jump Rope – Yep.

Exercise Bike. I have an Iron man 220R.

Stairmaster. I don't have a Stairmaster, but I do have a Keys Fitness Health Trainer Elliptical machine.

Concept II rowing machine. I bought this a year ago. Hands down the best cardio workout you will ever, ever, ever get. Well worth the money and highly recommended.

Treadmill. This was the first piece of equipment that I bought. It's now almost 10 years old, but works great.

Swiss Ball. Yep. If you use the Swiss Ball right, it will really kick your ass. If you don't have anything at all, I really believe that this should be the first piece of equipment you buy.

Pull-up Bar. I have a vertical knee raise machine that includes a pull-up bar and a punching bag and Dip Bar.

Dip Bar. It's on the vertical knee raise machine

Light posters on the wall. I don't have anything on the wall.

Good Lighting. I have good lighting, but I like to keep it dark when I work out. I have tube lighting running around the floor and walls.

Whiteboard. Nope. I don't have this.

Air Filter – Yep.

Water Cooler – Nope. I always have lots of water in the fridge.

Scale. Yep. My scale also measures BFI.

Extra workout clothes. Nope.

Measuring Tape. Yep.

Legal Pad for notes. Yep.

Corner Sauna or hot tub. I have a hot tub in the back. I use it almost daily after I work out.

Shower. My wife won't let me use the bathroom connected to the master bedroom. That's her bathroom. I use the guest bath and it is right next to the room I use for the gym.

Towels.

Weight Training Equipment:


One Bar. Nope

One Set of Weights. I don't use the bar. I have a body-solid home gym that I use for most of my resistance workouts.

One easy curl bar. Yep.

Two Collars. Nope.

Six Pair of Dumbbells. Pairs of 10, 15, 20, 25, 30, and 35. Yep.

Good Quality Bench. Yep.

Set of Squat Racks. Nope

Smith Machine. Nope

Hyperextension Machine. Nope.


Incline board. Yep.
I don't have the heavy weights, but in place of that I have the home gym which enables me to duplicate almost all bar workouts with. It's not the best, but I'm not a body-builder. I just want to look good and stay in shape. The machine works well for my needs. The dumbbells and easy curl bar meets my needs in regard to free weights.